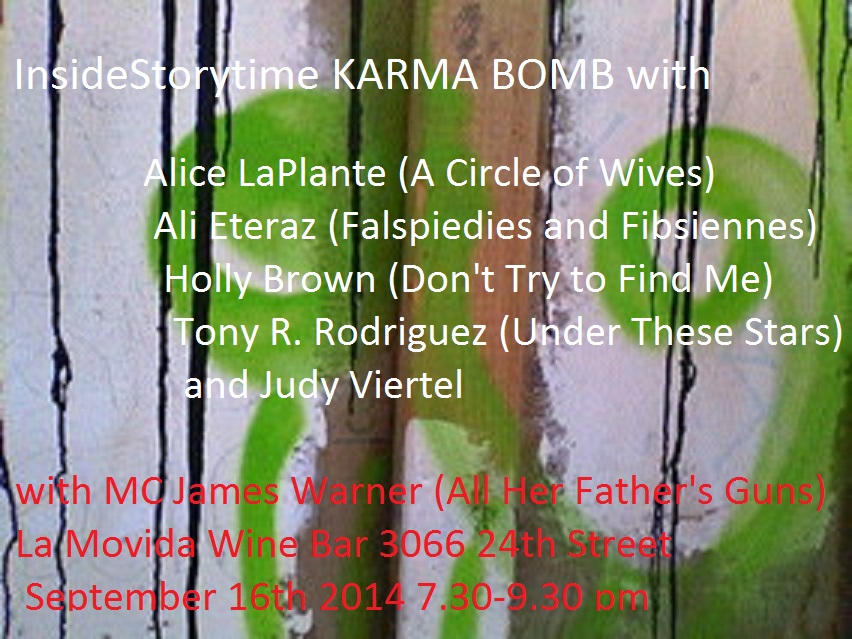 Coming up: in association with Litquake's fantabulifical San Francisco Lit Crawl, InsideStorytime FRIENDS AND FIENDS at Cafe La Boheme, 3318 24th St, San Francisco, on Saturday October 18th, 8.30-9.30 pm, will feature Michael Lavigne (The Wanting), Nick Mamatas (Love is the Law), Susie Hara (Finder of Lost Objects), Lauren Becker (If I Would Leave Myself Behind), and Christy Chan.
InsideStorytime LACUNAE at La Movida Wine Bar & Community Kitchen, 3066 24th St., San Francisco, on Tuesday November 18th, 7.30-9.30 pm -- more info soon.
Past InsideStorytimes have featured authors Makram Abu-Shakra, Marta Acosta, Zubair Ahmed, Rabih Alameddine, Daniel Alarcón, Nic Alea, Michael Alenyikov, Indira Allegra, Steve Almond, Andrew Altschul, Anita Amirrezvani, Charlie Jane Anders, Jen Burke Anderson, Jodi Angel, Tamim Ansary, Louise Aronson, Jaynel Attolini, Nancy Au, Wagner James Au, Sona Avakian, W. Ross Ayers, judy b., Natalie Baszile, Jason Bayani, Peter Beagle, Sean Beaudoin, Lauren Becker, Aimee Bender, Larry Beresford, David Berkeley, Holger Berndt, Elizabeth Bernstein, Chaim Bertman, Terry Bisson, Karen Bjorneby, Alan Black, Ben Black, Cara Black, Lucy Bledsoe, Ryan Blitstein, Jennifer Blowdryer, Will Boast, Michael Boehm, Jon Boilard, David Booth, Jack Boulware, Melodie Bowsher, Nora Boxer, Catherine Brady, Emily Brady, Rob Brezsny, Kiara Brinkman, Guy Benjamin Brookshire, Darrend Brown, Eli Brown, Murray Brozinsky, Judy Budnitz, Robin Bullard, Robin Burcell, Robert Burton, Colby Buzzell, Goodloe Byron, Cyndi Cady, Bob Calhoun, Aneesha Capur, Chris Carlsson, Novella Carpenter, Nona Caspers, Marty Castleberg, Joe Cervelin, Christy Chan, Ravi Chandra, Angie Chau, Rajshree Chauhan, M. K. Chavez, Traci Chee, Jimmy Chen, Amrit Chima, Justin Chin, M. Christian, Greta Christina, Jorge Cino, Belo Cipriani, David Ira Cleary, Craig Clevenger, Joe Clifford, Mark Coggins, Chris Cole, Doug Cordell, Paul Corman-Roberts, Christine Comaford-Lynch, Carolyn Cooke, Sean Patrick Conlon, David Corbett, Lucy Corin, Elizabeth Costello, Les Cowan, Timothy Crandle, Mojie Crigler, Katie Crouch, Ann Cummins, Blag Dahlia, Cassandra Dallett, Jasmin Darznik, Rob Davidson, Joshua Davis, Patricia Volonakis Davis, Lucille Lang Day, Geeta Dayal, Matthew James DeCoster, Albert Flynn DeSilver, Nick Denney, Michael Disend, Melissa Dodd, Jim Dodge, Andrea Drugay, Jennifer duBois, Andrew Dugas, Tony DuShane, Helena Echlin, Robin Ekiss, Stephen Elliott, Cindy Emch, Ammi Emergency, Maria Espinosa, Shideh Etaat, Nahid Fattahi, Paul Festa, Anne Finger, Eliot Fintushel, Valerie Fioravanti, Rodes Fishburne, Kristin FitzPatrick, Tim Floreen, Sandy Florian, Lee Foust, Heather Fowler, Thaisa Frank, Laura Fraser, Jake Fuchs, Michelle Gagnon, Jane Ganahl, Jesus Angel Garcia, Edward Gauvin, Julie Gengo, Tanya Egan Gibson, Kim Gill, David Gleeson, John Goins, Gravity Goldberg, Stan Goldberg, Kathi Kamen Goldmark, Eric D. Goodman, Cassandra Gorgeous, Yanina Gotsulsky, Daphne Gottlieb, Julie Graham, Genie Gratto, Graham Gremore, Austin Grossman, Stephen Gutierrez, Tracy Guzeman, Carrie Hall, Tissa Hami, Daniel Handler, Terry Sue Harms, Stephanie Harrell, Laird Harrison, Seth Harwood, Daniel Heath, Cameron Heffernan, Paula Hendricks, Luke Heyerman, Skip Horack, Rachel Howard, Elise Hunter, Alta Ifland, Matthew Iribarne, Zoltan Istvan, Noria Jablonski, Julia Jackson, Ayize Jama-Everett, Manuel Jimenez, Adam Johnson, Maisha Z Johnson, Justin Jones, Judy Juanita, Richard Kadrey, Konstantin Kakaes, Persis Karim, Evan Karp, Alan Kaufman, Tim Kay, Jonathon Keats, Kim Wong Keltner, Stephen Kessler, Laleh Khadivi, Junse Kim, Sean Kim, Taelur Kim, Jeff Kirschner, Ellen Klages, Elizabeth Koch, Lee Konstantinou, Alexandra Kostoulas, Stephanie Kuehnert, Andrew Lam, Scott Lambridis, Allison Landa, Scott Landers, Joel Landmine, Jennifer Lee, Frances Lefkowitz, Ian Lendler, Genine Lentine, L. E. Leone, Scott Lettieri, Daniel LeVesque, Robin Coste Lewis, Yiyun Li, D.W. Lichtenberg, Ali Liebegott, Annie Lin, Paul Linde, Beth Lisick, Sophie Littlefield, Sybil Lockhart, Michael Bernard Loggins, Regina Louise, Li Miao Lovett, Alvin Lu, Jacqueline Luckett, Michael David Lukas, Ericka Lutz, Erick Lyle, Kathryn Ma, J. D. Mader, Ivory Madison, Shana Mahaffey, Erika Mailman, Tim Maleeny, Adam Mansbach, Anna Mantzaris, Sarah Ladipo Manyika, Sean Labrador y Manzano, Micheline Aharonian Marcom, Anne Marino, Ira Marlowe, Anthony Marra, Chelsea Martin, Kurt Wallace Martin, R. J. Martin, Roy Mash, Saqib Mausoof, Sharon May, Ethel Mays, Michael McAllister, Colleen McKee, Rob McLaughlin, Patricia Ann McNair, Margarita Meklina, Miranda F. Mellis, Lindsay Merbaum, Wendy Merrill, Ethan Michaels, Midori, Elise Frances Miller, Lydia Millet, Kate Milliken, Emily Mitchell, Joshua Mohr, Hyla Molander, Tomas Moniz, Morgan, Diana Morgaine, Kate Moses, Eddie Muller, Aífe Murray, Caitlin Myer, Louise Nayer, Ebede Ndi, Annalee Newitz, Mitzi Ngim, Nicholas Nicastro, Jim Nisbet, Cornelia Nixon, Monica Nolan, Zahra Noorbakhsh, Mary Van Note, Juliet November, Kaya Oakes, Dawn Oberg, Alan O'Gorman, Alvin Orloff, Peter Orner, Wendy C. Ortiz, Lori Ostlund, Angelica Oung, Joe Pachinko, John Panzer, Apollo Papafrangou, Beverly Parayno, Shahrnush Parsipur, Raj Patel, Holly Payne, Hank Pellissier, Micah Perks, Aimee Phan, Whitney Phaneuf, Alex Fokas, Matt Pine, Roger Pinnell, Tom Pitts, Meg Pokrass, Frank Portman, Tim Pratt, Mark Pritchard, Peg Alford Pursell, Carol Queen, Joe Quirk, Anne Raeff, Andy Raskin, Jon Raymond, Kirk Read, Ishmael Reed, Simon Rich, Michelle Richmond, Suzanne Rivecca, Jenesha de Rivera, Jason Roberts, Scott Roberts, Linda Robertson, Kim Stanley Robinson, Karisma Rodriguez, Simon Rogghe, Ethel Rohan, F. S. Rosa, Jarret Rosenblatt, Elizabeth Rosner, Brynn Saito, Vanitha Sankaran, Rachel Sarah, Mark Sarvas, Ron Saxen, Nina Schuyler, Jon Sindell, Darieck Scott, Kemble Scott, Lori Selke, Shanthi Sekaran, Mahbod Seraji, Karlan Shaddox, Justine Sharrock, R. L. Shattuck, Susan Shea, Michael Sheahan, Moazzam Sheikh, Simon Sheppard, John Shirley, Laura Shumaker, Holly Shumas, Benjamin Bac Sierra, Julia Flynn Siler, Sylvie Simmons, April Sinclair, Jesse Singer, Bucky Sinister, Jen Siriganian, Gordy Slack, Sharon Sobotta, K. M. Soehnlein, Susanna Solomon, Jennifer Solow, John Somerville, Mary Stein, Susan Steinberg, Ransom Stephens, David Henry Sterry, Matt Stewart, Christina Sunley, Matt Bernstein Sycamore a.k.a. Mattilda, Sean Taylor, William Taylor Jr., Michelle Tea, Cary Tennis, Lysley Tenorio, Meghan Thornton, Na'amen Tilahun, Max Tomlinson, Tarin Towers, Thy Tran, Claire Tristram, Gary Turchin, Cameron Tuttle, Ian Tuttle, Ezekiel Tyrus, Leah Umansky, Aimee Valentine, Jane Vandenburgh, Vauhini Vara, Dorinda Vassigh, Alia Volz, Siamak Vossoughi, Benjamin Wachs, Ayelet Waldman, Townsend Walker, Genanne Walsh, Annie Wang, Meghan Ward, Malena Watrous, Ken Weaver, Helene Wecker, Emily Meg Weinstein, Diane Weipert, Jillian Weise, Barry Willdorf, James Williams, Maw Shein Win, Lolly Winston, Ali Wong, Kenneth Wong, Karen Tei Yamashita, Kenton K. Yee, John Yi, Mariah K. Young, Sarah "Dollface" Young, Chun Yu, Zarina Zabrisky, Katayoon Zandvakili, Matthew Zapruder, Olga Zilberbourg, Salvatore Zoida, and Todd Zuniga.